2023 Guide: Best Violins for Young Children
Trying to buy the first violin for a young child can be overwhelming. There are just so many violins on the market and it's hard to know what to look for, especially when you're just starting out. The process of narrowing down your options can be daunting, but picking a starter violin doesn't need to be that way, which is why we're here to lend a helping hand.
Below are our picks for the best violins for young children. Each of the violins listed has been personally tested by us, with children in mind, so we're confident in our picks. Scroll down to see our top three choices, our reasons for choosing them, and the criteria you will want to consider when making your choice.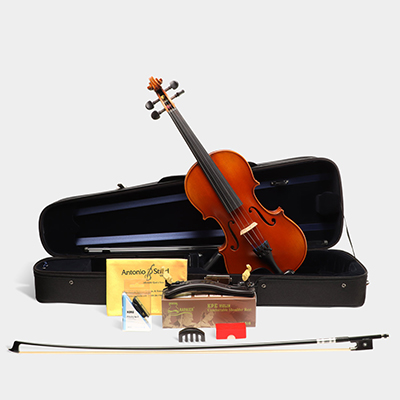 The best choice for the best violin for young children.
How We Chose Our Top Choice
The Antonio Strad Model 5 Violin (formerly known by the SKU Model5H) is our top choice for the best violin for young children. This model is on the higher end in terms of price, but it's also a higher-end instrument. It's handmade with aged warm woods and is meant for players on the cusp of being intermediate. This may feel intimidating if you are buying for a beginner, but this makes it a great instrument to grow into. Plus, it has high playability, so beginner players won't struggle to start playing it. You can expect the Model 5 to stay with you for a while so you won't have to worry about investing in another violin.
You can't get in a size smaller than a ½ so hold off on buying this one for the littlest violinists until they grow a few sizes. But for everyone else; you'll love the clear, precise tone this violin has without being too cutting, which will foster an excellent ear in young players.
For a more in-depth look please read our review of the Antonio Strad Model 5 Violin.
The next best option for the best violin for young children.
How We Chose Our Second Choice
The Antonio Strad Model 4 Violin (a.k.a the Model4H) is our second choice for best violin for young children. Compared to the Model 5 above the main difference is that it was made for a slightly more beginner player. This distinction is reflected in the lower price, difference in wood aging, and the availability of the 1/4 size. It's a great starting instrument especially if you are looking to buy it for a younger beginner, or to upgrade from a rental violin. The sound itself is more sweet than rich, making it easier for beginners to develop a good ear since the tone is distinct and without the potential for a messy sound that advanced violins sometimes have in a beginner's hands.
It's a tough pick between the 4 and the 5. The deciding factor is ultimately who you are getting the violin for. The 5 offers a lot more room for improvement than the 4, but the 4 is an excellent starter violin for beginners, especially for a violin at this price.
For a more in-depth look, please read our review of the Antonio Strad Model 4 Violin.
The last option for the best violin for young children.
How We Chose Our Third Choice?
The Cremona SV-1220 Maestro First Violin is our last choice for the best violin for young children. This model is widely available, although they typically need to visit a local music shop to be properly set up. Like the 5H we'd recommend it for beginner-intermediate players. It has a mellow and resonant sound that welcomes growth and nuanced technique from its player. We struggled to find this model in anything, but a full size, so that's what put it in last place. However, the ease of play makes it a good instrument for young children. Further, the tailpiece, pegs, and chin rest are a slightly rarer light brown, so if you value aesthetics that might appeal to you. It also comes with a nice roomy case, that can come in handy.
Picking the Best Beginner Violin for You
Now that you've seen the models we recommend, here are some factors that are most important to consider when making your decision. Some may apply to you more than others, and those are the ones that will be most valuable when it comes to narrowing your options down.
When choosing the best beginner violin for you, size is often an important factor because many beginner violinists are also children. Making sure that a violinist has the correct size instrument is imperative as playing on the wrong size can damage not only their technique but also cause physical harm. If a model doesn't carry the size you need right now, it is not worth buying. Save it for when you've grown into it, or find a similar model that carries your size.
You may have noticed that all of our picks are handmade or hand-carved in some capacity, this is because it makes a world of a difference over factory-made instruments. The expert touch of an experienced luthier means each instrument is optimized for its intended player. The construction, in general, will also be better; you can expect a handmade instrument to stand the test of time as long as it is maintained regularly.
A violin outfit is essentially a bundle of everything you need to start playing including, of course, the violin and bow, but also often things like mutes, tuners, rosin, and more. If you are upgrading from a previous violin, you may already have some of these things, and therefore do not need an outfit. Or if this is your first violin, you may need these things and won't have to buy them separately thanks to the outfit. Think about what you need beyond just the violin when making your decision. Often, but not always, you can get a specific violin model with or without the outfit. Checking if an outfit is or is not available and what is included may be worth your while!