2023 Guide: Best Violins for High School Students
If you are buying a violin for the high school level, you're probably ready to make an investment into a quality student violin but aren't sure where to start looking. The needs of a high school violinist can be specific — they're often in the intermediate-advanced range and improving quickly from daily practice.
We've given several violins a test run with these features in mind to help narrow down your choices. Scroll down to see our top three violins, our reasons for choosing them, and the criteria you will want to consider when making your choice. 
The best choice for the best violin for High School Students.
How We Chose Our Top Choice
The Antonio Strad Dynasty Violin is our top choice for the best violin for high school students. The Dynasty is the best advanced violin Antonio Strad offers. It has great projection — for when performing in high school auditoriums — without sacrificing a warmness of tone, and at a killer price. It doesn't hurt that it's also a beautiful instrument. The Dynasty comes in two finish varieties, a fiery scarlet, and an autumnal auburn, both look fantastic. We'd recommend this instrument to any high school student, but especially those with their sights set on great improvement in their playing and those who hope to continue playing beyond high school. 
What makes this violin stand out from the rest is that it's a great handmade instrument that is next level when it comes to sound quality at a very affordable price. Further, it's an instrument you could take with you to college if you intend to keep playing. That's why it's our number one choice for the best violin for high school students.
For a more in-depth look, please read our review of the Antonio Strad Dynasty Violin.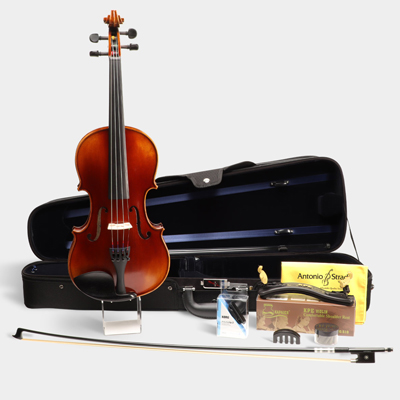 The next best option for the best violin for High School Students.
How We Chose Our Second Choice
The Antonio Strad Heritage Violin is our second choice for the best violin for high school students. If your budget is up to $1000 there's just no passing the Heritage up because it's such a good deal. It's ideal for high schoolers because it is designed for violinists that are advancing quickly — intermediate to advanced cusp players who want to delve into new techniques and harder pieces, which is often the case when playing at the high school level. It has a powerful tone that allows for nuanced dynamics and musicality. Its defining feature is the brilliance of its sound — the Heritage is bright and precise, giving improving violinists a fresh voice to express themselves with.
The beautiful, handmade quality of the Heritage is hard to beat at its price. Its ability to adapt to new play-styles, skills, and techniques, as well as its strength as both a solo and orchestra instrument, make this our second pick for best violins for high school students.
For a more in-depth look, please read our review of the Antonio Strad Heritage Violin.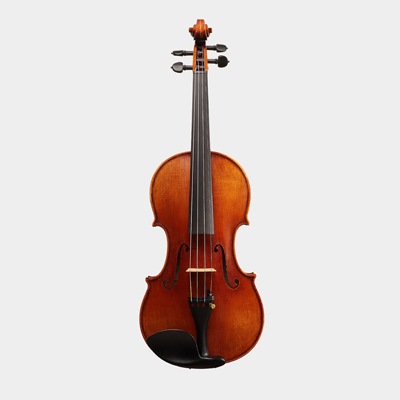 The last option for the best violin for High School Students.
How We Chose Our Third Choice
The Scott Cao 750e Violin is our last choice for the best violins for high school students. It's an advanced student violin with a refined tone. This one would be higher on our list, but we personally didn't enjoy the slightly muted voice that this model has, which can sometimes be a detriment in orchestral settings. More effort is required to get a powerful sound than for the other models listed here. So if you're playing in any bigger auditoriums or halls, it might come across as precise, yet on the soft side. 
Besides that, it's still a beautifully crafted instrument that will be a credit to anyone who plays it, which makes it our third choice for best violins for high school students.
Picking the Best High School Violin for You
Now that you've seen the models we recommend here are some factors that are most important to consider when making your decision when buying a high school violin. Some may apply to you more than others, and those are the ones that will be most valuable when it comes to narrowing your options down.
When choosing the best student violin for you, size is often an important factor because student violinists can be a variety of violin sizes. Making sure that a violinist has the correct size instrument is imperative as playing on the wrong size can damage not only your technique but also cause physical harm. If a model doesn't carry the size you need right now, it is not worth buying. Save it for when you've grown into it, or find a similar model that carries your size.
You may have noticed that all of our picks are handmade or hand-carved in some capacity, this is because it makes a world of a difference over factory-made instruments. The expert touch of an experienced luthier means each instrument is optimized for its intended player. The construction, in general, will also be better; you can expect a handmade instrument to stand the test of time as long as it is maintained regularly.
A violin outfit is essentially a bundle of everything you need to start playing including, of course, the violin and bow, but also often things like mutes, tuners, rosin, and more. If you are upgrading from a previous violin, you may already have some of these things, and therefore do not need an outfit. Or if this is your first violin, you may need these things and won't have to buy them separately thanks to the outfit. Think about what you need beyond just the violin when making your decision. Often, but not always, you can get a specific violin model with or without the outfit. Checking if an outfit is or is not available and what is included may be worth your while!