2023 Guide: Best Violins for Beginners
For those beginner violinists looking to buy a violin that's going to take your playing to the next level, you've come to the right place. You want an instrument with an amazing sound that is going to make you want to keep playing, without being too expensive, after all, you might need to upgrade again once you've advanced further. If that sounds like you, VBG has your back. We've been testing violins in the beginner-intermediate range to find the best violins for beginners, so you can have a violin that suits your needs best.
Below are our top picks for the best violin for a beginner. Each of the violins listed has been personally tested by us, so we're confident in our picks. Scroll down to see our top three choices, our reasons for choosing them, and the criteria you will want to consider when making your choice.
The best choice for the best violin for beginners.
How We Chose Our Top Choice
The Antonio Strad Heritage Violin is our top choice for the best violin for beginners. The Heritage is on the high side in terms of price, but it's worth every penny. It's designed for beginners who are improving by a lot, as well as intermediate cusp players who want to delve into new techniques and harder pieces. It has a powerful tone that allows for nuanced dynamics and musicality. Its defining feature is the brilliance of its sound — the Heritage is bright and precise, giving improving violinists a fresh voice to express themselves with and a clear tone to keep that musical ear in tip-top shape.
The beautiful, handmade quality of the Heritage can't be beaten. Its ability to adapt to new play-styles, skills, and techniques, as well as its strength as both a solo and orchestra instrument, make this our top pick for best violins for beginners.
For a more in-depth look, please read our review of the Antonio Strad Heritage Violin.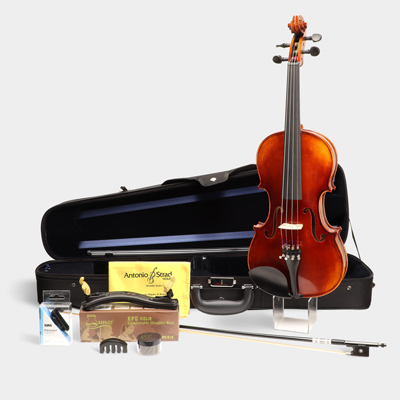 The next best option for the best violin for beginners.
How We Chose Our Second Choice
The Antonio Strad Legacy Violin is our second choice for best violin for a beginner. It holds this position thanks to its warm, and resonant sound. If you're a fan of violins with rich, full-bodied voices, then you'll love the Legacy. It's a violin that is probably best appreciated by intermediate students growing into their musicality, but a beginner buying the Legacy in hopes of an instrument that will stick with them for a while won't be disappointed either. 
The reason that this isn't our first choice is that the Legacy doesn't have the same opportunities for nuance or crystal clear precision as the Antonio Strad Heritage. On the other hand, the Legacy has a warmer voice that some prefer over the Heritage's power. If you're on a tighter budget or if you like warm tones, the Antonio Strad Legacy is a great pick for a beginner violin.
For a more in-depth look, please read our review of the Antonio Strad Legacy Violin.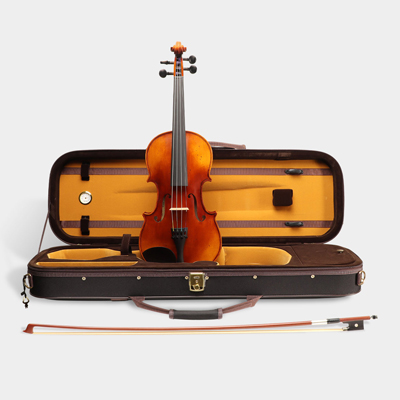 The last option for the best violin for beginners.
How We Chose Our Third Choice
The Scott Cao STV-017E Violin is last on our list of best violins for beginners. This Scott Cao model is the cheapest of our top 3 violins, but don't be fooled, this is an excellent upper-beginner violin. Its outfit does not include all the bells and whistles that the Heritage and Legacy do, but you may already own most of the things you need. It comes in every size under the sun, so regardless of what age or size you are there is a Scott Cao STV-017E for you. Further, it has a great bright sound — similar to the Heritage, but more beginner-friendly so it's slightly easier to pick up.
What differentiates this model from the other two is again, the level of player that it's intended for as well as the price. If you are looking for a nicer beginner violin, without hoping that it'll last you into the intermediate level, the Scott Cao STV-017E might be for you!
Picking the Best Beginner Violin for You
Now that you've seen the models we recommend, here are some factors that are most important to consider when making your decision on what beginner violin to buy. Some may apply to you more than others, and those are the ones that will be most valuable when it comes to narrowing your options down.
When choosing the best beginner violin for you, size is often an important factor because many beginner student violinists are also children. Making sure that a violinist has the correct size instrument is imperative as playing on the wrong size violin can damage not only your technique but also cause physical harm. If a model doesn't carry the size you need right now, it is not worth buying. Save it for when you've grown into it, or find a similar model that carries your size.
You may have noticed that all of our picks are handmade or hand-carved in some capacity, this is because it makes a world of a difference over factory-made instruments. The expert touch of an experienced luthier means each instrument is optimized for its intended player. The construction, in general, will also be better; you can expect a handmade instrument to stand the test of time as long as it is maintained regularly.
A violin outfit is essentially a bundle of everything you need to start playing including, of course, the violin and bow, but also often things like mutes, tuners, rosin, and more. If you are upgrading from a previous violin, you may already have some of these things, and therefore do not need an outfit. Or if this is your first violin, you may need these things and won't have to buy them separately thanks to the outfit. Think about what you need beyond just the violin when making your decision. Often, but not always, you can get a specific violin model with or without the outfit. Checking if an outfit is or is not available and what is included may be worth your while!